You are here
Back to top
Adding Insight To Injury: The Ultimate Injury Recovery Guide To Help You Reclaim The Life You Love (Paperback)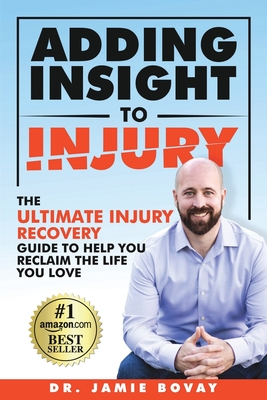 $19.99

Usually Ships in 1-5 Days
Description
---
What if everything you thought you knew about injury recovery was wrong? If you have ever been injured, you know that there is an overload of information out there, making it difficult to decide on a path to recovery. With such diverse and conflicting information out there, how do you know if you are making the best decisions for your health?

If you have ever suffered from back, knee, shoulder, neck, hip, foot/ankle, or sports injury problems but don't know what to do about it, this book is for you. This injury recovery guide focuses on giving you clarity on long-term solutions for living an active and healthy life post-injury, without suggesting unhealthy or unnecessary options such as painkillers, injections, or surgeries.

If you're someone who values your health and wants to continue---or begin---living an active lifestyle, then this book will be your guide, leading you from pain and injury to recovery.

Here is some of what you'll learn in this book:

-The false beliefs about injury recovery that could be holding you back and how to avoid making costly mistakes (especially if you already have pain or stiffness) in your recovery journey

-Why your pain may not be improving when it should be

-What's needed to recover from injuries in each body region

-How you can stay active with your favorite sport or exercise while improving your pain

-How to approach mobility training exercises to get the most benefit for rehab or performance

-Steps and advice to improve your habits, overall mental wellness, and nutrition

Want to truly understand the principles that guide injury recovery? Adding Insight To Injury lays out a blueprint for understanding all of the decisions needed in the rehabilitation process. You will be given safe and effective approaches for rehabilitating injuries and the steps for returning to an active life including how to choose a quality healthcare provider who best fits your needs. Applying these principles will allow you to devise a plan to improve your pain, injury, mobility, strength, and return to whatever you need to do.

Quality movement is a unique characteristic that helps define us as human beings. But, if we can't move the way we deserve, it can interrupt our lives. Many times, the causes of pain, stiffness, and poor movement may be difficult to spot on your own. This book gives you the tools needed to identify and overcome the problems associated with ineffective injury recovery. Whether you are a professional athlete, occasionally exerciser, or simply someone who wants to live your life without physical restrictions, this one-of-a-kind guide will teach you how to take control of the injury recovery process and improve your life.

Some additional topics covered Include:

-Why letting your injury "rest" is a bad idea

-Why stretching and exercise are not likely going to help your pain

-When the theory of "no pain, no gain" isn't something you should follow

-The difference between flexibility and mobility and why it matters with injury recovery

-Understanding why where you hurt (the victim) isn't necessarily where the pain is coming from (the culprit)

-How to approach strength, flexibility, mobility, and exercise to prevent and rehabilitate common injuries

-How to modify and perform cross-training while you are injured.

The author Dr. Jamie Bovay is one of Colorado's leading physical therapists and founder of KinetikChain Denver, a clinic specializing in helping active adults avoid the frustrations of pain and injury so they can live active lifestyles and get back to everything they want, need, and love to do. This book can do the same for.