You are here
Back to top
Eyegames: Easy and Fun Visual Exercises: An OT and Optometrist Offer Activities to Enhance Vision! (Paperback)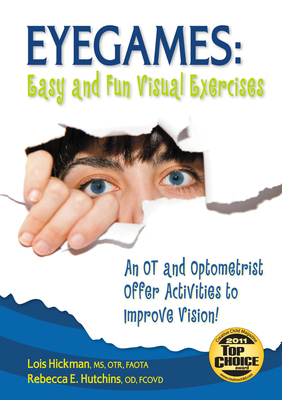 $9.95
Usually Ships in 1-5 Days
Description
---
This book represents an introduction to the human senses for kids. It might be your child's first "read about your own problems" guide. It explains what can go wrong when the brain inappropriately magnifies the messages sense organs send to it.
Making inappropriate responses to sensory input from various senses is commonly referred to as sensory processing disorder, or SPD. The child avoids, resists, or becomes emotionally upset about experiencing sensory awareness, to a level that significantly interferes with a child's ability to perform the necessary major functions of daily living. This book is a therapy guide for any child with sensory issues
About the Author
---
Lois Hickman, MS, OTR, FAOTA maintains a private clinic at her organic farm in Lyons, Colorado, where she works with children and adults. Her key treatment components emphasize Sensory Integration theory and practice and the use of music. Lois is also recognized for her work with Fragile X Syndrome clients. In 1998, the Occupational Therapy Association of Colorado awarded Lois its highest honor, the Marjorie Ball Award of Merit, for her outstanding contribution to the field of occupational therapy. In 2000, Lois was honored by being selected as a "Fellow of the American Occupational Therapy Association." Dr. Rebecca E. Hutchins, O.D., FCOVD encourages her patients to "look beyond 20/20---beyond eyesight and into vision." Dr. Hutchins prides herself in taking the time needed to fully evaluate the visual system. She frequently confers with other professionals, including teachers, special educators, pediatric occupational therapists, speech pathologists, school psychologists, chiropractors, osteopaths, cognitive rehabiliation providers, and EEG neurofeedback professionals.
Praise For…
---
"At last! A wonderful guide showing how the collaboration between behavioral optometry and occupational therapy can benefit children. This booklet should be used in every school in America! If educators and parents understand the importance of vision to learning and behavior, far fewer students would need special education."
— Patricia Lemer MS, NCC Director of Developmental Delay Resources