You are here
Back to top
Hidden Genius: The secret ways of thinking that power the world's most successful people (Hardcover)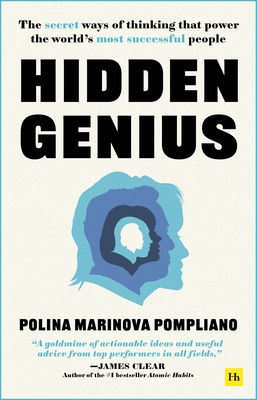 $27.99

Usually Ships in 1-5 Days
Description
---
What distinguishes the truly exceptional from the merely great?

After five years of writing The Profile, Polina Marinova Pompliano has studied thousands of the most successful and interesting people in the world and examined how they reason their way through problems, unleash their creativity, and perform under extreme pressure.

The highest performers don't use tricks or hacks to achieve greatness. They use mental frameworks that fundamentally change the way they see the world. They've learned how to unlock their hidden genius in order to reach their full potential.

This book will help you do the same. After learning from the world's most successful people featured inside, you will have a mental toolkit to help you tackle thorny problems, navigate relationships, and use creativity and resilience in times of uncertainty.
About the Author
---
Polina Marinova Pompliano is the founder of The Profile, a new media company that features longform profiles of successful people and companies each week.

Previously, she spent five years at FORTUNE where she wrote more than 1,300 articles and earned the trust of prominent investors and entrepreneurs. As the author and editor of Term Sheet, FORTUNE's industry-leading dealmaking newsletter, Polina interviewed the industry's most influential dealmakers, including Melinda Gates, Steve Case, Chamath Palihapitiya, Alexis Ohanian, and more.
Praise For…
---
"A goldmine of actionable ideas and useful advice from top performers in all fields. Hidden Genius offers inspiration for anyone interested in unlocking their full potential."
—James Clear, Author of the #1 bestseller Atomic Habits

"A brilliant look at what truly sets successful people apart, bursting with knowledge and so much fun to read. Polina is a master storyteller."
—Morgan Housel, Author of the #1 bestseller The Psychology of Money

"Polina Pompliano is an outstanding storyteller because she's also an exceptional listener. Hidden Genius is a compendium of priceless lessons and nuggets drawn from her remarkable curiosity for what makes leaders and innovators tick, with fresh insights and perspectives on every page."
—Danny Meyer, Founder and executive chairman of Union Square Hospitality Group, and author of Setting the Table

"Having interviewed and researched hundreds of the world's most successful people, there is nobody more qualified than Polina Pompliano to find the patterns, systems, and thinking that underlie success. In Hidden Genius she masterfully distills the lessons she's learned. This book is a guide for high-performers looking to excel in the arts or business. Additionally, it's a roadmap for anyone looking to become a more perfect version of themselves."

— Brandon Stanton, Creator of Humans of New York

"Hidden Genius is jam-packed with fun and fascinating insights about how exceptional people—in business, sports, entertainment, politics, and more—think, create, act, and lead. Polina Pompliano's curiosity about people (a key, she notes, to anyone's success) overflows. The payoff for us is a joyful ride through the worlds of extraordinary achievers."
—Pattie Sellers, Co-CEO, former Assistant Managing Editor of Fortune Magazine

"This book is set apart from others that profile leaders. Polina gets to the heart, mind, practices, and practical lessons that drive the most successful people. She covers both the emotional and intellectual journey of a wide diversity of leaders and fields, making these profiles and lessons relevant to a broad group of readers."
—Kat Cole, President and COO of Athletic Greens

"In her new book, Polina Pompliano weaves a wonderful tapestry of how to become more creative and imaginative using the stories of incredible people who exemplify and bring to life Polina's collection of 'bits of genius.' She offers you actionable ideas to jumpstart your ideas and flourish in the Creator Economy. A highly entertaining and useful book, I strongly recommend it."
—James P. O'Shaughnessy, Founder of O'Shaughnessy Ventures LLC