You are here
Back to top
Wild Moms: Motherhood in the Animal Kingdom (Paperback)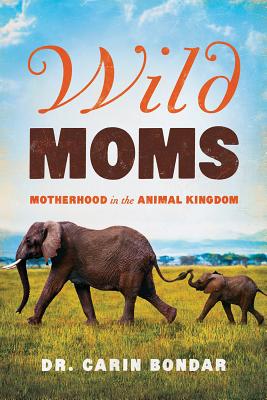 Description
---
A fascinating and entertaining tour of motherhood in the animal kingdom that reveals a new perspective on the mother/child relationship.
Being a mom is a tough job—but imagine doing it in the jungle or out on the safari, faced by the ravages of the elements, a scarcity of resources, and the threat of predators prowling at all times of the day and night. In Wild Moms, Dr. Carin Bondar takes readers on an enthralling tour of the animal kingdom as she explores the phenomenon of motherhood in the wild.
A journey through motherhood for the animal kingdom—from the initial phases of gestation and pregnancy through breastfeeding and toddler-rearing and trying to parent a teenager through empty nest syndrome (which, in many of these cases, is quite literal!) to being a grandmother. In Wild Moms, Dr. Bondar answers a whole host of questions about the animal kingdom: How do moms in the animal kingdom cope with crying babies and potty training? How does breastfeeding work in the wild—particularly when a mother is nursing not one baby at a time, but a whole litter?
Accessible and entertaining, Wild Moms is a celebration of moms everywhere—and a book guaranteed to make readers think about motherhood in an entirely new way.
About the Author
---
Dr. Carin Bondar received a PhD in population ecology from the University of British Columbia and has hosted a variety of online and television programs at Scientific American, PBS Digital Studios, and the Science Channel. She is also the author of Wild Sex and lives in British Columbia, Canada.
Praise For…
---
A literary embrace of parenthood in the wild kingdom. A study brimming with endlessly fascinating fodder for animal lovers.

There's much to amaze readers. Popular science readers with an interest in evolutionary biology will enjoy this book. As the second in the author's 'Wild Series,' it will no doubt lead them to wonder: What's next?