You are here
Back to top
Bloodless (Agent Pendergast Series #21) (Large Print / Hardcover)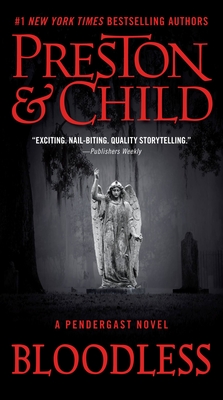 $37.00

Usually Ships in 1-5 Days
Description
---
INSTANT #1 NEW YORK TIMES BESTSELLER: Agent Pendergast faces his most unexpected challenge yet when bloodless bodies begin to appear in Savannah, GA.
 
A fabulous heist:
On the evening of November 24, 1971, D. B. Cooper hijacked Flight 305—Portland to Seattle—with a fake bomb, collected a ransom of $200,000, and then parachuted from the rear of the plane, disappearing into the night…and into history.
 
A brutal crime steeped in legend and malevolence:
Fifty years later, Agent Pendergast takes on a bizarre and gruesome case: in the ghost-haunted city of Savannah, Georgia, bodies are found with no blood left in their veins—sowing panic and reviving whispered tales of the infamous Savannah Vampire.
 
A case like no other:
As the mystery rises along with the body count, Pendergast and his partner, Agent Coldmoon, race to understand how—or if—these murders are connected to the only unsolved skyjacking in American history. Together, they uncover not just the answer…but an unearthly evil beyond all imagining.
About the Author
---
The thrillers of Douglas Preston and Lincoln Child "stand head and shoulders above their rivals" (Publishers Weekly). Preston and Child's Relic and The Cabinet of Curiosities were chosen by readers in a National Public Radio poll as being among the one hundred greatest thrillers ever written, and Relic was made into a number-one box office hit movie. They are coauthors of the famed Pendergast series and their recent novels include Crooked River, Verses for the Dead, City of Endless Night, and The Obsidian Chamber. In addition to his novels, Douglas Preston writes about archaeology for The New Yorker and National Geographic magazines. Lincoln Child is a Florida resident and former book editor who has published seven novels of his own, including bestsellers such as Full Wolf Moon and Deep Storm.

Readers can sign up for The Pendergast File, a monthly "strangely entertaining" newsletter from the authors, at their website, PrestonChild.com. The authors welcome visitors to their Facebook page, where they post regularly.
Praise For…
---
Praise for CROOKED RIVER
"Exciting. Nail-biting. Quality storytelling."—Publishers Weekly

"[An] action-filled adventure [. . . ] There is plenty of suspense, and the action gets bloody. Great storytelling, a quirky hero, and a quirkier plot make this a winner for adventure fans."—Kirkus

"Preston and Child know how to craft compelling stories that are both baffling and surprising. The cast of characters feels authentic and moves the story forward in unexpected ways. . . the authors are masters of the procedural with a gothic flair."—Associated Press

"[Pendergast] still remains the most charming, intelligent, cool, and creepy agent ever written. . . Read this. As fast as possible. Preston & Child have once again created the unimaginable and you just can't miss it!"—Suspense Magazine

"Agent Pendergast is back and better than ever."—The Real Book Spy

"Red herrings and dead ends abound in this especially intricately plotted entry in the Pendergast series, which is also noteworthy (as usual) for its finely drawn characters and its writing style, which overlays contemporary storytelling with a light ornate flavoring."—Booklist

"The best mystery series going today. Preston and Child display a true masters' touch. This is riveting reading entertainment of the highest order."—Providence Journal

"Fast moving and [. . . ] tense . . . Crooked River is another great entry in this series. Preston and Child keep them coming, don't they?"—New York Journal of Books

"Crooked River by Douglas Preston and Lincoln Child combines a sinister global threat, a mystery suing modern medical science, and a powerful, sadistic antagonist. Who better than to combat these but unorthodox FBI Agent Aloysius Pendergast...This compelling story moves forward in unexpected ways. Readers will enjoy going on a journey with Pendergast and company."—Crimespree

"Crooked River is worth the price of admission, and Preston & Child find themselves with another surefire hit on their hands."—Bookreporter

"An incredible adventure."—NJ.com

Praise for VERSES FOR THE DEAD
"Multifaceted and complex. Legendary. Working together, Preston and Child are masters at crafting a story that goes beyond a simple mystery or thriller. . . Readers unfamiliar with Pendergast will find this novel a fantastic launch point. He's a modern-day Sherlock Holmes, and the story reads like classic literature."—Associated Press

"Doug Preston and Lincoln Child's master detective A.X.L. Pendergast is every bit the modern equivalent of Sherlock Holmes and Hercule Poirot. And his investigative skills have never been sharper than in the altogether brilliant Verses for the Dead . . . A throwback to classic crime fiction while maintaining a sharp, postmodern edge."—Providence Journal

"Another masterpiece by Preston & Child [is] the perfect way to start out your New Year."—Suspense Magazine

"Verses for the Dead is classic Preston & Child, full of complex characters, plot twists and storylines that border on supernatural or otherworldly elements [. . . ] The story is full of suspense and surprises that all converge in a jaw-dropping ending."—BookReporter