You are here
Back to top
the princess saves herself in this one (Paperback)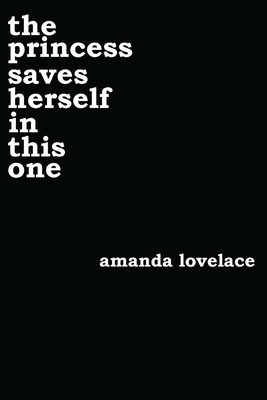 $14.99
Usually Ships in 1-5 Days
Description
---
Winner of the 2016 Goodreads Choice Award, the princess saves herself in this one is a collection of poetry about resilience. It is about writing your own ending.

From Amanda Lovelace, a poetry collection in four parts: the princess, the damsel, the queen, and you. The first three sections piece together the life of the author while the final section serves as a note to the reader. This moving book explores love, loss, grief, healing, empowerment, and inspiration.

the princess saves herself in this one is the first book in the "women are some kind of magic" series.
About the Author
---
having grown up a word-devourer & avid fairy tale lover, it was only natural that amanda lovelace would begin writing books of her own. so she did. when she isn't reading or writing, she can be found waiting for pumpkin spice coffee to come back into season & binge-watching gilmore girls. (before you ask: team jess all the way.) the lifelong poetess & storyteller currently lives in new jersey with her spouse, their ragdoll cats, & a combined book collection so large it will soon need its own home. she is a two-time winner of the Goodreads Choice Award for best poetry as well as a USA TODAY & Publishers Weekly bestseller.
 
Praise For…
---
"It blends fairy tale lore with real-life musings for a beautiful result." (Lindsay E. Mack, Romper)

"As a whole, the collection acts as a tribute to all women who have ever needed a boost of empowerment and inspiration." (Madison Breaux, V Magazine)

"...Amanda Lovelace dives into the topics of modern feminism and empowerment...Read if you've ever thought about love, loss, who you are, and what you want. (So...all of us.)" (Abigail Yonker, The Everygirl)

"This is the book to read if you are on the path to writing your own ending and finding yourself, even when the road to accomplishment is rocky." (Dominique Etzel, Alloy)

"Similar in style—written in straightforward and uncomplicated verse, and content—grappling with themes of female power, love and loss, failure and redemption, pain and healing, poet Amanda Lovelace's The Princess Saves Herself in this One is similar to Kaur's Milk and Honey in another way as well: both books were self-published before going completely viral among readers." (E. CE Miller, Bustle)

"The perfect poetry opener for any fairytale lover and feminist..." (Kerri Jarema, Bustle)

"15 Books You'll Want To Read Over And Over Again" (Zoraida Córdova, Bustle)

"18 Literary Quotes Every Feminist Needs to Read Right Now" 
#5 "the only thing / required / to be / a woman / is to / identify as one. / - period, end of story."

  (E. CE Miller, Bustle)

"14 New Books You Definitely Need to Have on Your Radar in February [2017]" (Ryan Roschke, PopSugar)