You are here
Back to top
Dr. Spock's Baby and Child Care: 9th Edition (Paperback)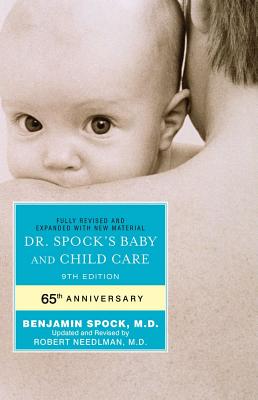 $23.00
Email or call for price.
Description
---
Dr. Benjamin Spock is America's most trusted name in child care and parenting, and his essential guidebook has topped bestseller lists for over sixty-five years. This fully revised and updated edition of the classic manual provides first time and experienced parents the best information about caring for new babies, toddlers, and adolescents in the twenty-first century.

All of Dr. Spock's invaluable, time-tested advice is here, along with the most current medical practices and advances in health care. While still covering key parenting issues like accidents, illnesses and injuries, this edition of the classic also contains the latest on:

* Immunizations
* Nutrition and childhood obesity
* Cultural diversity
* Alternative and non-traditional family structures
* Children's learning and brain development
* Raising children with special needs
* Environmental health
* Increasingly common disorders such as ADHD, childhood depression, and autism—including medications and behavioral interventions
* Children and the media, including screen time, video games, and the internet

Updated by leading pediatrician Robert Needlman, the book includes a revised glossary of common medications and a resource guide that compiles the most reliable online resources. This indispensable guide is still the next best thing to Dr. Spock's #1 rule of parenting: "Trust yourself. You know more than you think you do."
About the Author
---
Dr. Benjamin Spock was the most trusted and most famous pediatrician worldwide; his reassuring and commonsense advice shaped parenting practices for half a century. The author of eleven books, he was a political activist for causes that vitally affect children: disarmament, day care, schooling, housing, and medical care for all. Dr. Spock's Baby and Child Care has been translated into thirty-nine languages and has sold more than fifty million copies worldwide since its first publication in 1946. Please visit DrSpock.com for more information.

Robert Needlman, MD, is professor of pediatrics at Case Western Reserve University School of Medicine and director of the Division of Developmental and Behavioral Pediatrics at MetroHealth Medical Center in Cleveland. The author of Dr. Spock's Baby Basics, he also coauthored the 8th and 9th editions of Dr. Spock's Baby and Child Care. Dr. Needlman is cofounder of Reach Out and Read, a child literacy program that has received the UNESCO Confucius Prize and the David M. Rubenstein Prize from the Library of Congress, among other honors.