You are here
Back to top
Manual of Style (Chicago 1st Edition) (Paperback)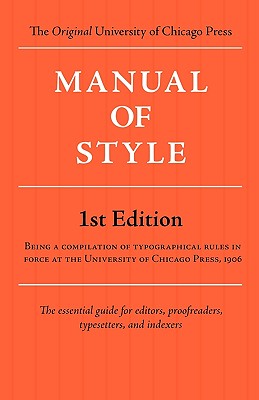 Email or call for price.
Usually Ships in 1-5 Days
Description
---
What is now known as The Chicago Manual of Style was first published in 1906 as a "Manual of Style: Being a compilation of the typographical rules in force at the University of Chicago Press, to which are appended specimens of type in use." From this earliest, 200-page edition, the manual has evolved into a reference style guide of 984 pages in its 15th edition. But sometimes, as the saying goes, less is more. Now you can get back to the basics with this reprint of the original 1906 edition of the Manual of Style. It includes rules for capitalization, the use of italics, quotations, spelling, punctuation, divisions, footnotes, and tabular work, along with definitions of technical terms. It also includes valuable hints for authors, editors, proofreaders, and copyholders, along with a table of proofreader's marks and specimens of type then in use at the University of Chicago Press. The hints for proofreaders alone are worth the price of admission, but the entire manual provides succinct, essential guidance for anyone who works with words.