You are here
Back to top
Spelling Workout Homeschool Bundle Level B Copyright 2002 [With Parent Guide and Teacher's Guide] (Paperback)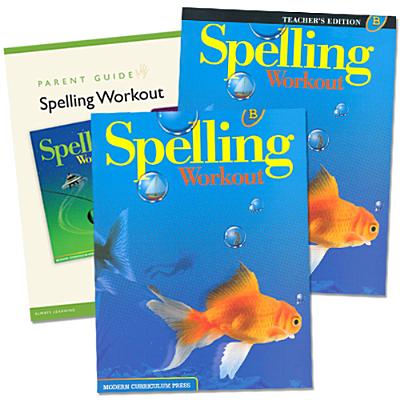 Description
---
The Modern Curriculum Press (MCP) Spelling Workout homeschool program takes you and your child through the process of learning to spell. When using this program, you'll ensure that your child not only gets the basic information he or she needs to learn, but also enjoys the educational journey. MCP Spelling Workout: Grade 2 features fun and unique cross-curricular reading content your child can use to better understand language.
MCP Spelling Workout is a step-by-step homeschool program designed to keep your child engaged as he or she learns how to put together letters and sounds. With puzzles, riddles and activities, MCP Spelling Workout: Grade 2 will introduce important Spelling concepts while holding your child's interests. At the end of Grade 2, your child will be able to tackle more challenging words than those presented in Grade 1, such as words with two syllables.
Throughout the course of MCP Spelling Workout, your child will connect sounds with letters, and then learn to put those sounds together. Eventually, he or she will be able to recognize and create complex Spelling patterns. You can boost your child's Spelling education by pairing MCP Spelling Workout with MCP Plaid Phonics. Together, the two programs will give your child a complete and dynamic understanding of language.
MCP Spelling Workout: Grade 2 comes with the tools you need to form effective and exciting lesson plans. Your child will enjoy going through the Student Edition workbook while you'll glean insights from the Teacher's Edition and Parent Guide.
Additionally, MCP Spelling Workout: Grade 2 is designed to be flexible, fitting into your homeschooling schedule. Create three-day or five-day lesson plans using this curriculum program.
For more information on the specific materials included in MCP Spelling Workout: Grade 2, visit the Features and Benefits page.With Spelling Workout, every child can become a successful speller in no time. This high-interest program offers an easy-to-implement step-by-step approach to spelling success.
Spelling Workout has all the components you need to go from simple sound-letter relationships to more complex spelling patterns. Your child will learn spelling skills based on phonics through unique, cross-curricular reading passages, practice, and high-interest writing activities. Packed with flexible lessons, motivating activities, including fun riddles and puzzles, this dynamic program promotes spelling success
You can use Spelling Workout together with MCP "Plaid" Phonics to provide your child with a complete phonics and spelling curriculum.
Looking for other grade levels?
1st Grade
3rd Grade
4th Grade
5th Grade
6th Grade
7th Grade
8th Grade