You are here
Back to top
Soft Launch: Poems (Paperback)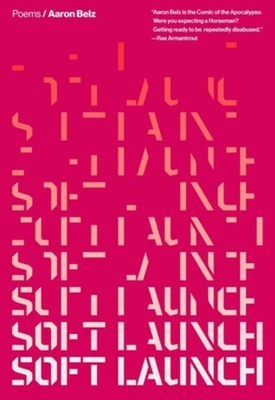 $15.95
Usually Ships in 1-5 Days
Description
---
With fluster, bluster, and, occasionally, mustard, Aaron Belz absurdly goes where many middle-aged white men have gone before, but probably never written poems about with such insight and pomp.
In
Soft Launch
, Aaron Belz takes what might seem normal to other people—a 1/3 full bottle of Prell left in a musty shower stall of a mountain cabin, for instance—and turns it over in the light until its true self emerges, a thirsty dolphin lost in the piney woods. Or so he claims. Regardless, in these poems, the sentimentalized experience of middle-age is about not just connectedness but
overconnectedness
, and to all the wrong things. Hyperaware, hypervigilant, and abundantly alert, Belz surveys the banal, the grinding quotidian, and asks not, "Is this all?" but rather "Isn't this not all?" And then he bows his head either to pray or to nap.
About the Author
---
Aaron Belz is the author of four book of poetry, including Glitter Bomb and Lovely, Raspberry. He currently lives in Savanah, Georgia
Praise For…
---
Aaron Belz is the Comic of the Apocalypse. Were you expecting a Horseman? Getting ready to be repeatedly disabused.
— Rae Armantrout

I would love to quote you a few lines from Aaron Belz' Soft Launch—how he rhymes 'Greenland' with 'what could have beenland,' for example, or rushes to the defense of Scott Fitzgerald—but that would give away the whole thing: the punchlines, the puns, the wry twists, the lemon twists, the twists of fate, and the fate of the known universe. It's all here, as a delicious set of inside jokes, like a Starbucks among the stars or a brat inside a bratwurst. The play within this play is what makes it playful. But also full. And delicious. Like a cup of tea that might scald you if you drink it too fast. Take little sips. Don't burn your lips. This poetry is hot, I'm warning you.

— D. A. Powell

Aaron
Belz's poetry reminds us that poetry should be bright, friendly, surprising,
and totally committed to everything but itself. Reading him is like dreaming of
a summer vacation and then taking it.
— John Ashbery

There
is room in this twittering world for some oddly resonant deadpan absurdity,
especially when it's concise and readable…You'll want to put this book down,
but you probably won't.
— Library Journal (review of "Lovely, Raspberry")

Belz embraces narrative, brevity, down-to-earth
diction, and slapstick. His approach resembles the New York School's lighter
side, where Ashbery's use of Popeye in a poem evokes pop art and O'Hara's
conversational tone disarms the reader to open him up for heavier material that
follows
— Jason Labbe - Boston Review