You are here
Back to top
Heart of an Athlete: The FCA Athlete's Devotional (Paperback)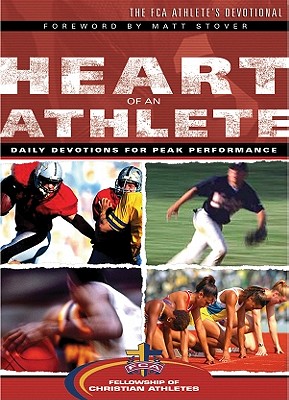 Description
---
Athletes have a passion for sports that makes them unique, viewing life through a competitive lens. The desire to compete and their drive for success can mean seeing friends, family, church and school as distractions. Usually the first to be sacrificed is their spiritual life. And yet, God does not intend for athletes to go it alone. Heart of an Athlete is spiritual training for the competitor, 120 devotions written specifically for athletes of every level. It goes straight to the issues that matter most to athletes, such as identity, fear, trust and recognition.  This athletic devotional encourages readers to spend regular, short and meaningful time in God's Word to help them become true competitors for Christ.
About the Author
---
Since 1954, the Fellowship of Christian Athletes has challenged athletes and coaches to impact the world for Jesus Christ. FCA is cultivating Christian principles in communities throughout the world by encouraging, equipping and empowering others to serve as examples and to make a difference. Reaching over two million people annually on the professional, college, high school, junior high and youth levels, FCA has grown into one of the largest sports ministries. Through this shared passion for athletics and faith, lives are changed for current and future generations.

Dan Britton serves as the Fellowship of Christian Athletes' Executive Vice President of International Ministry and Training at the National Support Center in Kansas City. He has been on FCA staff since 1991, first serving for 13 years in Virginia and most recently as the Executive V.P. of Ministry Programs. In high school and college, Dan was a standout lacrosse player. He continued his lacrosse career by playing professional indoor lacrosse for four years with the Baltimore Thunder. He has coauthored three books, "One Word That Will Change Your Life," "WisdomWalks "and "WisdomWalks SPORTS," and he is the author and editor of eleven FCA books. He still plays and coaches lacrosse and enjoys running marathons. He and his wife Dawn reside in Overland Park, Kansas, with their three children: Kallie, Abby and Elijah.