You are here
Back to top
Classic Candy: America's Favorite Sweets, 1950–80 (Shire Library USA) (Paperback)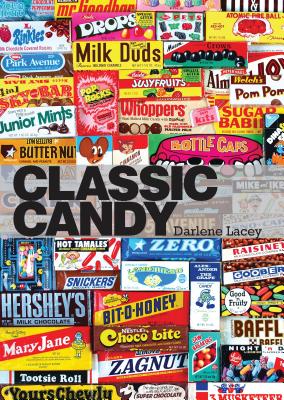 $14.00
Email or call for price.
Description
---
Candy may well have its origins in medicine (think peppermint sticks), and many Americans still think of candy as an edible salve with which to cure and to celebrate. Today, Americans consume more than 600 billion pounds of the sugary stuff each year. Most Americans have their favorites, their go-to candy bars that bring them comfort. And most of us yearn for the candy of our youth, those treats that made us feel better no matter the occasion. From classics such as the Hershey bar and M&Ms to trend-setters like PEZ and Atomic Fireballs, candy has a special place in our hearts and memories. Lacey details the evolution of candy in America, looking at the classics from a variety of angles. With a look at everything from chocolate to fruity sweets, from simply packaging to product tie-ins, Lacey examines the classic candy of the late-twentieth century, including what it meant--and what it still means--to most of us. Readers will savor this colorful walk down memory lane to Candyland, filled with familiar signposts such as Bazooka, Clark, Necco, and Tootsie Roll.
About the Author
---
Darlene Lacey began collecting candy wrappers in the 1970s. The goal of her collection was to create the Candy Wrapper Museum, where wrappers could be enjoyed as art, nostalgia, and humor. Over the decades, thousands of pieces were collected for the museum, and it is now one of the most complete and significant collections of American candy (www.candywrappermuseum.com). It has drawn hundreds of thousands of visitors and has been featured in such media as the Food Network's Unwrapped, the Chicago Tribune, Smithsonian Magazine, and LA Beat among others. A freelance writer, editor, and script adaptor, Lacey also writes about candy and culture in a column for thelosangelesbeat.com. The author lives in Los Angeles, CA.
Praise For…
---
"This charming little book is filled with fabulous vintage ads and fun facts, For example -- getting back to Good and Plenty -- did you know that it was first produced in 1893 by the Quaker City Chocolate and Confectionery Company? And that it's the oldest brand-name candy in the US? I had no idea. You'll enjoy looking back at your favorites, too." —Kitsch and Retro

"A yummy and nostalgic history of American candy... highlights candy fads and trends, some of which only appeared in short production and others that are still available today...More than 150 kinds of classic candy grace the pages, with beautiful full-color photos that make the mouth water." —Deseret News