You are here
Back to top
Teaching English by Design: How to Create and Carry Out Instructional Units (Paperback)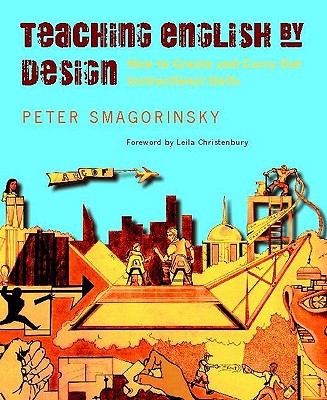 Description
---
The Teaching English by Design Instructor's Guide presents a flexible framework for an English Methods course. Its week-by-week suggestions for in- and out-of-class activities support students as they learn to design units for use in their first classrooms.
Peter Smagorinsky, the leading scholar and researcher of his generation in the field of English education, shows English teachers how to turn every hour of classroom instruction into an authentic and powerful learning experience in his inspiring new book, Teaching English by Design. It's a wonderful book and represents a challenge to all of us to teach better than we usually do.
Sheridan Blau
Author of The Literature Workshop
Peter Smagorinsky, a highly respected figure in English Education, here offers new teachers principled and practical ways of authoring curriculum, even in traditional settings.
Randy Bomer
Author of Time for Meaning
Many books on English/language arts instruction describe the teaching of units, but how many of them actually show how to create the units, make them meaningful to students, and use them to support your curriculum from September to June? Teaching English by Design does it all. It helps avoid a fragmentary curriculum by providing the rationale and the process for not only teaching well but also for producing integrated units that encourage students to deepen their thinking across the school year.
Teaching English by Design
is two books in one: a primer for teaching secondary English and a comprehensive guide to creating and using four to six-week instructional units. Peter Smagorinsky shares important insight about students, how they learn, and what kinds of classrooms support their achievement in reading and writing. Then he uses those findings to open up the key ideas of unit design to every teacher. Smagorinsky's units are organized around key concepts in English, such as:
reading strategies
writing strategies
genres
periods, regions, and movements in literature
themes
the works of a significant author.
From original idea to construction, to implementation and beyond, Smagorinsky's practical advice supports teachers in extending, connecting, and integrating their units to increase the cohesion and power of the curriculum.
Incorporating curricular theory, educational psychology, and fourteen years of high school teaching experience, Peter Smagorinsky's advice is both theoretically sound and grounded in the daily realities of today's teacher. Complemented by a wealth of web-based illustrations, Teaching English by Design is the ideal resource for preservice teachers as well as those in the classroom who want to take charge of their curriculum and find new energy in it.