You are here
Back to top
The Ultimate Breastfeeding Book of Answers: The Most Comprehensive Problem-Solving Guide to Breastfeeding from the Foremost Expert in North America (Paperback)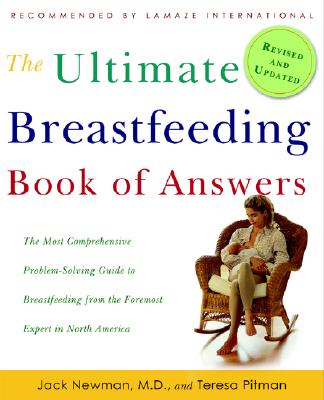 Description
---
An Amazing Resource for Nursing Moms
Although breastfeeding is the natural and healthy way to nourish your baby, it's not always easy. Many new mothers are scared away from nursing because of difficulty getting started and lack of information about what to do when things don t go as planned. In this fully revised and updated edition of The Ultimate Breastfeeding Book of Answers, two of today's foremost lactation experts help new mothers overcome their fears, doubts, and practical concerns about one of the most special ways a mother can bond with her baby.
In this comprehensive guide, Dr. Jack Newman, a leading authority on infant care, and Teresa Pitman, a La Leche League leader for more than twenty years, give you the facts about breastfeeding and provide solutions for the common problems that arise. Filled with the same practical advice that made the first edition a must-have for nursing moms, the new edition features updates on:
Achieving a good latch
What to do if your baby refuses the breast
Avoiding sore nipples
Ensuring your baby gets enough milk
Feeding a colicky baby
Breastfeeding premature and special-needs babies.
Praise For…
---
"Everything you wanted to know about breastfeeding . . . Filled with current research, it's still an easy, fun read that makes breastfeeding seem absolutely doable." —Lamaze International