You are here
Back to top
GPO Style Manual: An Official Guide to the Form and Style of Federal Government Publishing 2016: An Official Guide to the Form and Style of Federal Government Publishing 2016 (Paperback)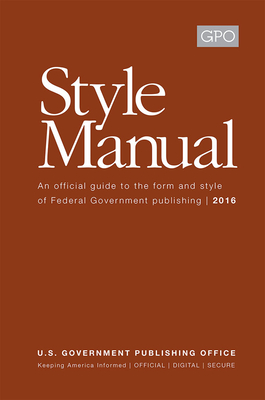 Description
---
Published since 1894, the
GPO Style Manual
is issued under the authority of section 1105 of title 44 of the U.S. Code by the Director of the GPO. The manual is prepared by the GPO Style Board as a guide to the style and form of Federal Government publishing. The
GPO Style Manual
has become a major reference source for professionals involved in the field of Federal printing and publishing. Designed to achieve uniform word and type treatment and economy of word use in the form and style of government printing, this manual has become to be widely recognized by writers and editors within and outside the Federal Government as one of the most useful resources in the editorial arsenal.  
In addition to a comprehensive revision the new Style Manual features:
GPO's most recent digital initiatives
Updates to foreign nation information
Updates to State demonyms
Treatment of words related to native entities recognized by the Federal Government
Clarification of punctuation rules
Updates to capitalization, abbreviations, and computer terms
Inclusion of many suggestions from users
Audience: Writers, editors, and others interested in the publishing field would find this manual useful.  This reference is a "MUST HAVE" publication for content producers within the U.S. Federal Government --executive, judicial, and legislative branch agency offices.
Other products produced by the
United States Government Publishing Office
can be found here: 
https://bookstore.gpo.gov/agency/241
Paperback format of this print title can be found here: 
https://bookstore.gpo.gov/products/sku/021-000-00218-6?ctid=241
Praise For…
---
February 6, 2017  US Government Publishing Office   -- Prepared Statement before the Committee on House Administration U.S. House of Representatives Priorities of the House Officers and Legislative Branch Entities for FY 2018 and Beyond   --Davita Vance-Cooks, Director, U.S. Government Publishing Office