You are here
Back to top
Don't You Forget About Me: A Novel (Paperback)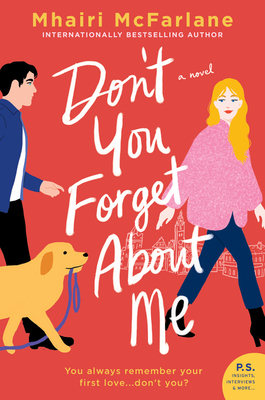 $15.99
Usually Ships in 1-5 Days
Description
---
"Don't You Forget About Me is one of those books I couldn't put down. Crackling with energy and wit, I lost count of how many times I laughed out loud. Mhairi McFarlane's voice is as clear as a bell—she makes you laugh, but she also makes you feel. I adore her!" — Sally Thorne
Internationally bestselling author Mhairi McFarlane delivers a funny, romantic, heartfelt novel perfect for fans of Josie Silver or Sally Thorne, and anyone who loves Bridget Jones or Fleabag!
You always remember your first love... don't you?
If there's anything worse than being fired from the lousiest restaurant in town, it's coming home early to find your boyfriend in bed with someone else. Reeling from the humiliation of a double dumping in one day, Georgina takes the next job that comes her way—bartender in a newly opened pub. There's only one problem: it's run by the guy she fell in love with years ago. And—make that two problems—he doesn't remember her. At all. But she has fabulous friends and her signature hot pink fur coat... what more could a girl really need?
Lucas McCarthy has not only grown into a broodingly handsome man, but he's also turned into an actual grown-up, with a thriving business and a dog along the way. Crossing paths with him again throws Georgina's rocky present into sharp relief—and brings a secret from her past bubbling to the surface. Only she knows what happened twelve years ago, and why she's allowed the memories to chase her ever since. But maybe it's not too late for the truth... or a second chance with the one that got away?
About the Author
---
Sunday Times bestselling author Mhairi McFarlane was born in Scotland and her unnecessarily confusing name is pronounced Vah-Ree. After some efforts at journalism, she started writing novels and her first book, You Had Me At Hello, was an instant success. She's now written six books and she lives in Nottingham with a man and a cat.
Praise For…
---
"McFarlane strikes romantic comedy gold with this tale of reunited sweethearts who have to grapple with the past... deeply satisfying on several levels, and Lucas's final romantic speech is one for the ages.. a beautiful balance of tenderness, wry humor, and deep emotion."
— Publishers Weekly
(starred review)
"
Don't You Forget About Me
is one of those books I couldn't put down. Crackling with energy and wit, I lost count of how many times I laughed out loud. Mhairi McFarlane's voice is as clear as a bell—she makes you laugh, but she also makes you feel. I adore her!"
— Sally Thorne,
USA Today
bestselling author of
The Hating Game
and
99 Percent Mine
"I loved this book. It made me laugh and reminded me that anything's possible in love – and in everything else for that matter."
— Minnie Driver on
You Had Me at Hello
"Totally hilarious and wincingly real."
— Jenny Colgan
"Fun and engaging but with thought-provoking twists that deepen the emotional impact beyond light romantic comedy."
—
Kirkus Reviews
"I loved this: an original, genuinely funny, genuinely moving, modern love story."
— Katy Regan, author of
Little Big Love
"Very very witty and funny. Left me in awe…a total gem."
— Marian Keyes
"Reading Mhairi McFarlane's books brings a smile to my face and keeps me fully entertained. She has a knack for creating characters who are real and who feel like someone you might already know."
— Harlequin Junkie
"The funniest, most romantic book I've read since One Day."
— Lisa Jewell,
New York Times
bestselling author of
I Found You
"I've become a big fan of McFarlane, and I loved this latest."
— Daily Mail
"An effortlessly brilliant read – will have you laughing when you shouldn't and sobbing when you least expect it."
— Giovanna Fletcher
"McFarlane delivers a novel with heart and humor, comprised of laugh-out-loud one liners, outrageous comedic scenes, and a Nana who deserves a medal for her non-filtered tongue. Meanwhile, she isn't afraid to explore the grief process as Georgina processes her father's death, and a mixture of emotions are evoked as Georgina goes on a journey of self-discovery, complete with her hot pink fur coat."
— Booklist
"McFarlane uses Georgina's voice to explore how humor is used to mask pain as well as to help understand and get through it. Successful as both a romantic comedy and an insightful look into finding one's voice, this is a story readers will flock to for the laughs and remember for its realness."
— Library Journal
"Bridget Jones, you've got some competition."
— Marie Claire
"Mhairi McFarlane's DON'T YOU FORGET ABOUT ME is hilarious, insightful, and a perfect example of next generation contemporary fiction... it evolves the genre with laugh-out-loud humor and a keen eye on women's lives in 2019." 
— DailyWaffle.com
"A
page-turner about a heroine with a laugh-out-loud voice, an endearing romance, and, as the British say, lashings of drama."
— NPR